I am still getting my head around how this SXSW thing works.
There are the showcases, the short official sessions for all the bands, then there are the parties sponsored by record labels (do they still call them that?), magazines, web sites or anyone else that cares (i.e. NZ trade is running a party for the NZ bands). There are also 'music in the park' type events over the final weekend.
The problem is when you want to see band X – you have to work out when and where, and that's not easy. The 'unofficial' party scene is pretty hectic and its often a mystery who is playing and when.
Then there are the bands that are in town and unrelated to SXSW. El Ten Eleven is playing one of the parties, will I get to see them?
I am not a party animal. SXSW is a party event. I have wrangled invites to the following and several more. Looks like not much sleep coming up.
Wedding Present…
Black Angels…
Heartless Bastards, YACHT, The Drums, Built to Spill and Clap Your Hands….
Yep. Bass Band Drum of Death particularly.
Milkmaids, free beer and music – how can I resist.
Titus and Cloud Nothings, sweet.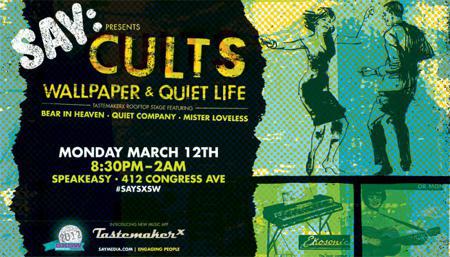 Com Truise ! Matthew Dear!
I'll be at this one with all the scenesters.
I haven't a clue about any of these bands, but the 'circus from beyond' poster has me curious.
Wet Hair
Chad Valley
Dinosaur Jnr
Last but not least, the Kiwi bash