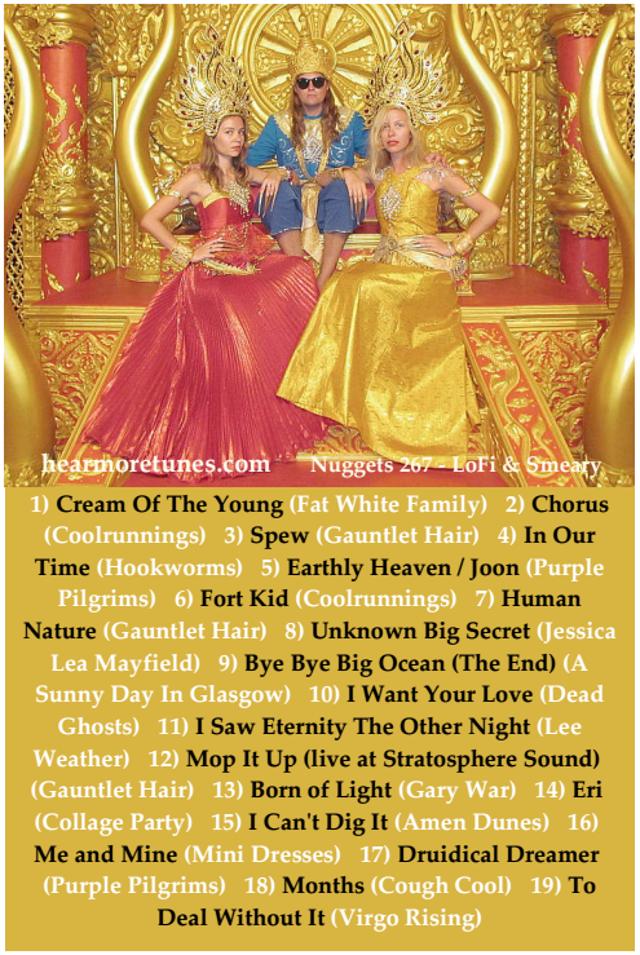 …
Last year I saw the wonderful Purple Pilgrims playing with Gary War. They sounded ethereal, heavenly creatures from another world (actually Christchurch via Hong Kong ). Gary War in contrast was messy, harsh electronica. They share an EP (see above pic). After the gig I started this mix.
Purple Pilgrims played last week at St Kevin's Arcade here in Auckland as part of the May day celebration.  Again a real treat and I was inspired to finish this mix.
Great gigs and those willing to spend $8 can see them back in Auckland this coming weekend playing with Avoid!Avoid at the Whammy Backbar. See you there. (click on the image below for ticket info)
Headquarters: Purple Pilgrims
Purple Pilgrims ~ live @ The Kings Arms 2015
Purple Pilgrims - Forever
Gary War - Born Of Light LIVE AT EKKO,UTRECHT
Fat White Family - Cream Of The Young (Green Man Sessions, 2014)
I like this band's Josef K vibe. Looking for a live vid. In the meantime, this …
Gauntlet Hair - "Lights Out" - Far From Home #21
Again I can't find a copy of this song played live so instead…
Hookworms - On Leaving | Guardian Sessions
Big fan. She has recently left her country roots and has gone grungy.
No vid so …
JESSICA LEA MAYFIELD Live (complete, indexed) Philadelphia May 2014
http://jessicaleamayfield.com/unknown-big-secret/
No vid..
A Sunny Day in Glasgow "Failure" LIVE @ Piano's 01-16-12
Buy them here
At last.
AMEN DUNES - LIVE (GARAGE MU - PARIS)
Vigo Rising
Virgo Rising - To Deal Without It
https://coughcool.bandcamp.com/
I really enjoyed the recent German TV series  Deutschland 83.
TRAILER: Deutschland 83 | Coming Soon | Channel 4
The series is set in 1983 when East German paranoia was at its height. Martin Rauch is a young guy sent to spy in West Germany to find out if the Americans are about to attack. The programme resonates because the sound track is rich with tunes of the early 80's I heard  when I was studying in Dunedin. Martin and I share similar times except I was carefree and living the life as student whilst he, and millions of other Germans, lived in real fear of a nuclear war.
As with Justified, I imagined my own soundtrack to the TV series and here 'tis.
There follows a video of the title track followed by a Spotify playlist of the soundtrack to the series.
Peter Schilling - Major Tom 1983 NDW
Back in the West we were oblivious to the struggles of the East German peoples, and instead hung out in clubs dancing like this…
Trisomie 21 The Last Song
More about this German New Wave / Post Punk Band from Hamburg here… and here's another of their tunes.
The New Stone Age (Live 1981) - OMD
Is it just me or does Glenn Gregory (the singer) look like Draco Malfroy in Harry Potter?
Heaven 17 - The Height Of The Fighting
https://heavenlybeat.bandcamp.com/
Heavenly Beat - Honest (Local Live In-Studio)
Big fan of Austra. That voice! Even better with three singers but sadly twin sisters Sari and Romy Lightman aka Tasseomancy are no longer involved.
Like Grimes the band is Canadien; must be something in the snow…
Austra - "Lose It" | Music 2011 | SXSW
Austra - Forgive Me (Live on KEXP)
Austra - 'Forgive Me' live @ 3voor12 Radio
Austra - The Villain - End Of The Road Festival 2011
Ben Dodd & His Organ
Ben has an interesting take on NZ indie music.
CHVRCHES - Lies (Live on KEXP)
The Go! Team - Milk Crisis
Neon Judgement -- Please Release Me Let Me Go-Go
Belgium post punkers. No videos on the web but here is a compilation.
Playlist: All Tracks - The Neon Judgement
Starfucker/STRFKR "Rawnald Gregory Erickson the Second"
Part Time -- In This Filthy City
PART TIME @ THE GRAND sxsw 2010
Coldwave from Turkey.
She Past Away - Kasvetli Kutlama
Keyboard minimalist on the ever reliable Night People Records
No videos of this German post punk band but they do feature in this most excellent playlist.
Cold Phoenix - La Fleur Du Destin (1985)
This gem appears in the above playlist and the dance clip at the start of this entry. The band is from France / Belgium. It took me ages to run down this track after hearing it as part of a YouTube playlist.
Trisomie 21 - The Last Song